Thanks to @jrfarr and @bradynord of Mojo Themes, wpbloggerbasic is proud to announce a further commercial themes. They are an increasing marketplace for WordPress theme, allowing individuals to sell and buy their theme. J.R and Brady are both great people and prove to be great wpblogger-basic friends. We're going to give our winners ten single theme licenses. On November 2nd, 2010, the winners will be elected.
What exactly do you win?
10 lucky users are chosen from the three themes that we have chosen below to win every commercial WordPress theme of their choice: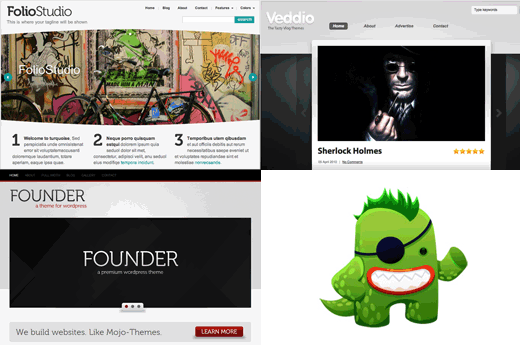 The three topics you can see in the above screenshot are: FolioStudio and Veddio Blogging.
How to Win?
This is an exclusive twitter competition. The guidance is very straightforward. Tweet only: